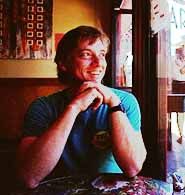 Mike Strong is a photographer, videographer, software engineer, journalist (radio and print), tech writer, and Web programmer. He is a former astronomic and geodetic surveyor/computer, former massage therapist, former baker and of course former bartender and waiter (proudly so!), as well as a newspaper and radio reporter (Nebraska and upstate New York) later finishing his BS in Journalism from the University of Kansas.
His first computer programs were written in the fall of 1966 on an IBM Systems 360. In the Air Force (1968-1972), as a geodetic/astronomic surveyor/computer he programed geodetics computations (US and UK) on the first field-portable computers (Olivetti P101s) leading later to database systems in the 1980's and a graphical application in the 1990's which was a third-party application (AutoScript) to render AutoCAD files with shading and with PostScript typesetting (rather than stick-like mechanical text). In the early 1990's he started using the web as a means of distributing AutoScript beta-tests to users across the world.
Mike Strong started photography in 1967 during a summer course at the University of Nebraska in Lincoln. The camera came along when he began ballroom dance (1979, then 1994 to present). That led to forming the kcdance.com website in february 1997 (as kcdance.com since 1998). The original intent was to show pictures and to make lists of places that he and other swing dancers could go to dance and to list inexpensive dance lessons in the Kansas City area. This developed into today's vastly larger site growing from coverage of social dance to performance dance with calendars for lessons, workshops and shows - all of which are freely open to dance groups in the KC area who wish to add their own information.
He has worked at UMKC since 1999 when he and Nicole English were primary Web programmers putting together the BIT (Bachelor of Information Technology) Web lesson site for the then Computer Science program. Together they developed the IT222 course (still used) and, after leaving for a web-database job at an international parts supply warehouse (American Crane and Tractor Parts - wholesellers of Caterpillar parts) in the KC west bottoms, he returned to UMKC via the PACE program creating new online curriculum, starting with a database course. He and Nicole English started first teaching DanceForms (dance animation on computer) in the Spring 2008 semester at the Conservatory of Music and Dance.
Mike Strong is well-known in the Kansas City dance communities for his striking dance photography and videography, as well as for his online publication on the Kansas City dance scene, KCDance.com. Since 1994 his photography (and video) has increasingly focused on dance and for some years has been almost entirely dance or dance related. He feels that his own dancing (such as it is) feeds directly into his camera, informing each photo and each video with knowledge of when and what to shoot, and just as importantly, maintaining his interest across the years. He follows all forms of dance, and hopes to educate the public on the importance of dance, the arts and their significance integrated within our daily lives.